Leading Bus Charter and Transport Service in Singapore
Ad Hoc Charter Services
You make plans for a trip, but something goes awry. Learn how you can eliminate this circumstances.
Contract Services
Set a contract service and we'll be glad to assists you. Find out more about how to avail of this service.
Shuttle Bus Services
Need a continuous trip from one location to another? Discover how we can help you.
Tour Services
We help you make plans for your next tour. We designed a new service to make your next excursion memorable.
School Bus Services
In need of school pick-up and drop-off services? You can count on us. We provide the safest way.
Who we are
We are ST Lee Transport Pte Ltd a Singapore-based bus chartering and transport services company that has the distinction of serving our clients for over 22 years. And throughout that time, we pride ourselves of our unblemished safety record.  Never in our illustrious history have we ever had an accident that was either caused by our staff's actions or was the result of negligence on our staffs' part!
Diverse. Dependable. Well-maintained!
We offer some of the most diverse range of buses available anywhere. From mid-range 20-30 seater and higher load 40/45/49-seater buses – We have them all! You and your entourage will travel in air-conditioned luxury while enjoying some of the best in-vehicle comfort features that our buses offer.
We pride ourselves on the dependable service we offer to our clients. That's because our fleet is well kept and well maintained.  Our fleet is not just subjected to regularly scheduled maintenance and road-worthiness tests, but our maintenance staff will even perform additional service and preemptive checks as and when needed. All of this is designed to ensure your safety and offer the dependable service that our clients have come to expect from us!
Our 40-Seater Buses are designed to float on air! Well kept and meticulously maintained, thanks to their wide seats and spacious layout, our guests enjoy extra legroom and better headroom.
Our 20-Seater Buses are an idea to ferry a medium-sized gathering of friends, relatives, staff, and colleagues from and to work or school children in comfort and style.
A trip on one of our buses is designed to deliver the utmost in safe and stress-free travel!
For Enquiry CALL 6258 6188
Request a quotation for Ad Hoc Charter and Contract Services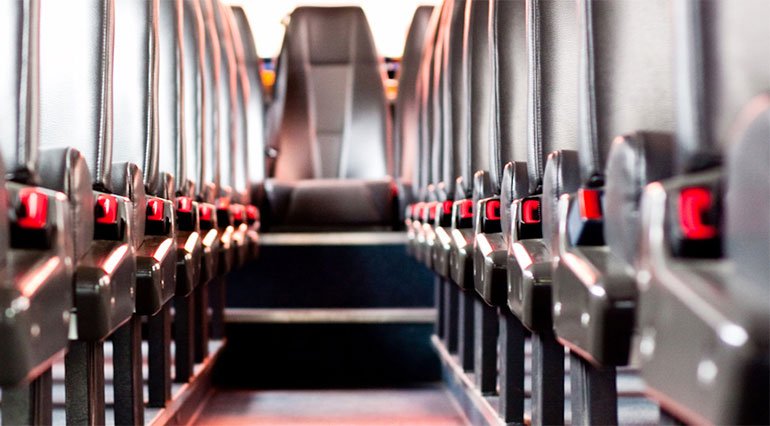 Dynamic Bus Charter and Transport Services
For over 22 years ST Lee Transport has proudly served a loyal Singapore-wide customer base, delivering high quality, dependable and safe bus charter and transport services. We own and operate one of the best maintained fleets of buses in the industry, including over 40 small, medium and large sized buses.  Our clients prefer us over some of the other bus charter options available because we offer a wide selection of buses, including 20-seater and 40-seater vehicles. That way, we can cater to the unique transport services needs of our clients. No matter how small or how large the requirement is, you can count on ST Lee Transport to deliver!
At ST Lee Transport, we are very familiar with the transport services needs of a broad range of clientele. Our clients come from across wide spectrum Singapore's diverse fabric. Whether you are a Bank, a Multi-national Company (MNC), an Engineering company or a School, we'll know exactly what you need. That's because we serve clients from across all of those sectors and more.
About Bus Chartering & Transport Services
Our bus charter services model is flexible, offering clients a vast selection of options to choose from. Depending upon your need, we can tailor a service package that will fit your unique transport services requirements. Whether you wish us to support you on a regular basis, or whether it is a short or long-term contractual relationship you wish, you can count on us. You'll find our staff willing and eager to work with you to come up with just the right plan that works for you!
And if you ever find yourself in desperate need of transport services at short notice, and you don't quite know what to do. Don't panic – we have you covered! We can even cater to ad-hoc and spontaneous bus charter requests if and when the need arises.
Our Drivers Are Well-Trained and Professional
Our drivers know that they carry "valuable cargo" on each run they make. Your family members, guests, staff and students are as precious to us as they are to you! When you receive bus charter services from us, you also get drivers that undergo some of the most rigorous training in the industry.  Not only are they professionals in their trade, but you'll also find them prompt, punctual, courteous and friendly. And that's what differentiates ST Lee Transport from many other transport services in Singapore!
Here in St Lee Transport, we want you to feel at ease during your travel. We don't want to compromise your safety that's we make sure that we monitor our drivers regularly. 
We don't miss a dime especially in securing your memorable travel. We only want you to have the experience we could give.
Location
Block 1002 Toa Payoh Industrial Park #07-1447 Singapore 319074
Email
stlee.transport@gmail.com